Traffic Exchange Scripts
Traffic exchange scripts perfect for anyone wanting to start a traffic exchange. Our highly customizable Traffic Exchange Scripts Built with PHP & MYSQLi

Auto surf script, start your very own auto surf traffic echange today
Start
Your Own Traffic Exchange

Today

The popularity of traffic exchanges continues to grow. With affiliates, blogger's and web site owners continuously searching for alternate ways to drive traffic to their web sites, blogs and affiliate offers.

Here at traffic exchange scripts we have all the bases covered. No matter what type of traffic exchange you are looking to start. Just imagine you could be starting your very own traffic exchange in only a few minuets form now, becoming the administrator of your own traffic flow. What could you do with an unlimited supply of web site and banner traffic?

With our traffic exchange scripts, You will be starting a traffic exchange business where you will providing an actual service people are constantly searching for. The Choice is Yours, What Type of traffic exchange business are you looking to start?

Auto Surf Traffic Exchange | Manual Surf Traffic Exchange | Banner Traffic Exchange | URL Rotator Traffic Exchange
All Traffic Exchange Scripts Come With
Full

Admin Control

Administer your traffic exchange website via a built in feature rich administrator back-end or create sub admin accounts.
Full

Members Area

Registered members have access to a comprehensive back-end where they are able to fully administer their own accounts.
Clean

Modern Code

Built using PHP and MYSQLi our scripts run natively on PHP7. With page styling handled via CSS files for easy customization.
Beautiful

Charts

Where relevant our traffic exchange scripts make use of graphical data driven charts.
Responsive

Layout

Highly responsive yet easy to customize web site template.
And

much more...

Such as Strict email verification, Instant Payment Notifications & Ongoing Support.
Responsive Traffic Exchange Template
All of our traffic exchange scripts make use of highly responsive website templates and are very easy to customize. Our scripts are NOT locked down with annoying code encryption.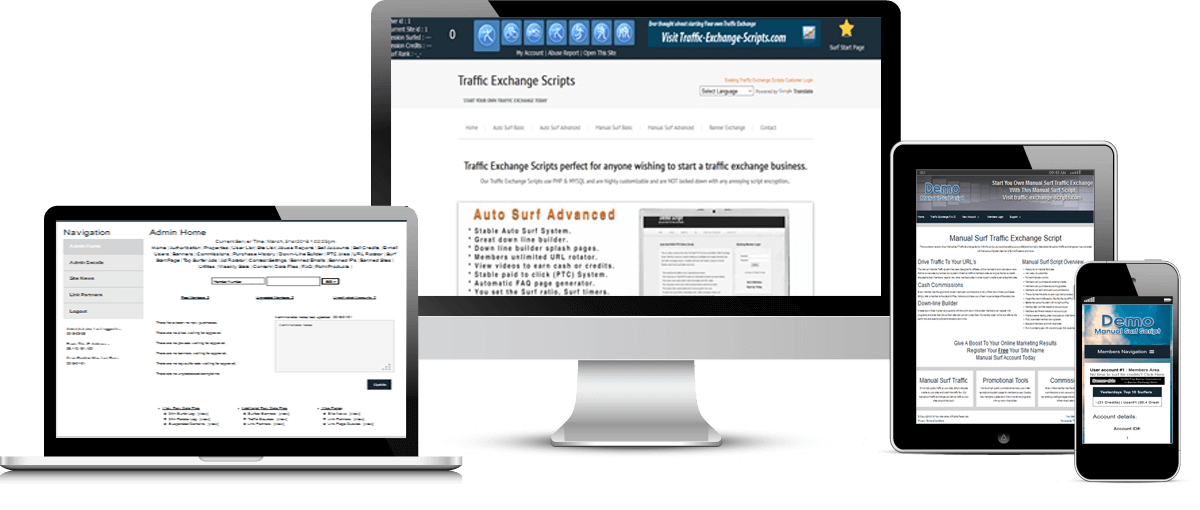 Usable On
Multiple

Devices

Enabling end users to make use of their traffic exchange accounts on multiple devices means more traffic and happier traffic exchange members. Each script available here at traffic exchange scripts is fully responsive.
Customer Testimonials
"Simply Fantastic, Thank you for your all your help. The banner exchange script is perfect, exactly what I was looking for."
Paul / Owner / Crypto-adz.com
"Installation was pretty easy, Thanks for helping import the old users :). A+++"
Paul / Owner / Hitica.com